---
Have you ever heard the story of Our Lady of Sunday,  also know as Our Lady of St. Bauzille de-la-Sylve?
The story starts with  Auguste Arnaud, a man in his thirties, married with two children. He didn't faithfully attend Mass on Sundays. He would skip mass to work in his vineyard  in Saint-Bauzille-de-la-Sylve, France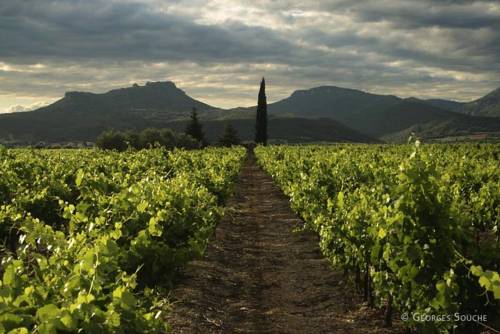 One Sunday, on the Feast of the Holy Trinity, June 8th 1873 , Auguste went to mass and afterwards went to work in his vineyard. After two hard hours of work, he rested with his lunch . 
Our Blessed Mother appeared to him, 
It was around 7:30, I saw a young woman shows all dressed in white, she wore a fringed belt and her head was crowned with a high crown like a miter. A great white veil came from the top of the crown covering her hands crossing on her chest. The figure of the woman was beautiful, quiet, without expressing neither joy nor sadness. I have not seen him smile. She seemed to be between 25 and 28 years.
Our Blessed Mother told him,
" You have a disease of the vine.  You left St. Bauzille. We must celebrate his feast on day it falls. Next Thursday you must go in procession to St.Anthony and hear mass. In a fortnight you must go in procession to Notre Dame to Canto of Gignac, Montplellier, and city of Lodeve. You must place a cross here to changing it later to another. Come in procession each year. Go tell your father and your pastor all of this, in a month I will come to thank you.
Auguste went with his father to the parish priest who didn't believe him. He then went to the carpenter to order a wooden cross and planted it at the bottom of the vine at the place indicated by the Blessed Virgin.  With his family, he went to hermitage of St. Anthony the Egyptian and also made a pilgrimage to Notre-Dame de Gignac for mass and morning prayers. He replaced the wooden cross planted in the vineyard by an iron cross that was mounted in a stone pedestal.
On July 8th, Our Lady appears for the second time, as Auguste was working in his vineyard where a crowd of 400 to 600 people waiting. He went to work and take a break. He again took the tool that slipped from his hands. He sat up and grabbed his hat and threw it aside. At the same time as his arm rose into the air, his face became very pale, his hands seemed inordinately elongated, his eyes fixed on something only he could see. He was suddenly moved with lightning speed to the cross (a distance of more than 40 yards.) None of the witnesses rejected this extraordinary fact.
This time, the lady was dressed in clothes of gold and she tells him,
"Do not work on Sundays. Blessed is he who believes and unhappy the man who does not believe. You must go to our Lady of Gignac in procession with your family."
She slipped the rosary to her left hand and, raising her right hand she blessed him and whole crowd.
Before she left, she said, "Let us sing hymns."
He turned around and told the crowd to sing and which they sung the Magnificat.
François-Marie-Anatole de Rovérié de Cabrières, Bishop of Montpellier appointed a commission of inquiry to investigate the apparitions. Three years later, the commission recognized the authenticity of the apparitions.
Our Lady of Sunday,
Make my heart like a beautiful vine,
Free from the disease of material concerns,
Rid of the weeds of the sin And carrying eternal fruits.
– Father Jean-Pierre Gaillard
Book:
There is an amazing short book called , The Land Without a Sunday
 by Maria Von Trapp (Sound of Music)  where she gives detail of how they  celebrate Sundays and reason to celebrate Sunday as Sunday should be.   
She gives details how they celebrated Sunday in Austria, which she says it will start on Saturday afternoons after 3 pm, the churches bells started to ring  She explains how  everyone puts on his finery.
 In most homes the Sunday dinner was at noon. The afternoon was often spent in visiting from house to house, especially visiting the sick. The young people would meet on the village green on Sunday afternoons for hours of folk dancing; the children would play games; the grownups would very often sit together and make music. Sunday afternoon was a time for rejoicing, for being happy, each in his own way.

On Sunday we often walked to the village church for High Mass, especially after we had started to sing. Later we used to go into the mountains with the children, taking along even the quite little ones, or we used to play an Austrian equivalent of baseball or volleyball, or we sat together and sang some of the songs we had collected ourselves on our hikes through the mountains. We also did a good deal of folk dancing, we had company come or we went visiting ourselves–just as everybody else used to do.
How do we celebrate Sunday, the greatest feast day of our lives?  What are some traditions your family does on Sundays? 
 I think we need a movement,  Take Back Our Sundays!
With the love of Christ,
Cecilia @HairBows4Life
How did you celebrate Pentecost? Check out our other Sundays with Saints,